Primary School, Secondary School and Junior College Tuition
Kimiya Learning Place has an experienced team of dedicated tutors with proven records and testimonials; some of which have been in this line for more than 10 years. We also consistently keep track of all student's progress as well as monitor their academic performance in class. All of our syllabus are planned in a way that each and every student will be prepared for the PSLE, GCE 'O' level and 'A' level final Examinations.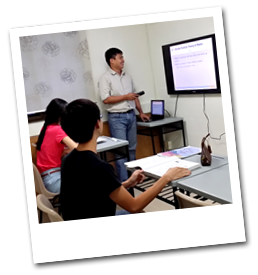 When a student enrols in our program he/she will be assessed on his/her academic strengths and weaknesses. This helps us to tailor a learning plan according to his/her academic needs. Additionally, our tutors closely follow the MOE syllabus to ensure that lesson plans complement what is being taught in school.
Lastly, our tutors will arrange and schedule for regular assessments. These assessments function for students to see the real progress they are making. This will, in consequence, increase their confidence and motivate them to do even better in the future. Also through these assessments, our tutors can effectively address each and every student's weakness or concerns.
Programme Overview
Kimiya Learning Place

At Kimiya Learning Place, we offer secondary to junior college tuition in the Sciences and English subjects. Whether one is looking for tuition classes because they are barely passing, or because they are looking to push their Bs to As, Kimiya Learning Place is dedicated to providing opportunities and guidance to achieve your goals. Our wide range of classes can better cater to students' needs when they sit for their GCE 'O' Level examinations.

Classes Offered:

Primary School Science (P1 to P6)
Primary School English (P1 to P6)
Lower Secondary Science (Sec 1 and 2)
Pure Physics (Sec 3 and 4)
Pure Chemistry (Sec 3 and 4)
Combined Science (Physics/Chemistry) (Sec 3 and 4)
H1 Chemistry (JC 1 and 2)
H2 Chemistry (JC 1 and 2)
General Paper (JC 1 and 2)

Kimiya Learning Place(Mathematics) conducted by Equity Tuition Centre

In collaboration with Equity Tuition Centre, Kimiya Learning Place offers mathematics tuition for all levels of students, ranging from Primary school to Junior College. Our experienced tutors will be able to customise their teachings to each students' ability, thus helping students improve and excel in their mathematics.

Classes Offered:

Mathematics (Pri 1 to 6)
Mathematics (Sec 1 to 2)
E Mathematics (Sec 3 to 4)
A Mathematics (Sec 3 to 4)
H2 Mathematics (J1 and J2)

Kimiya Learning Place and Residential Network

In collaboration with Residential Networks, Kimiya Learning Place will be providing English tuitions at the Residential Networks in Woodlands and Rivervale. These classes will be exactly the classes conducted in Kimiya Learning Place, with the same tutors and materials, but with no frills. In our program, we will help you to:

Understand the theories and be able to apply them.
Answer the questions in a precise and accurate way.
Develop and enhance your critical thinking, to handle application questions.

acejourney

At acejourney, we are promoting digitalised, self-directed learning. It is an online platform with different online worksheets, practices and classes that are affordable for academic levels ranging from Primary school to Junior College. Here at acejourney, students can learn at their own pace, without the commitment of a weekly tuition class.
We have no selection process for our students yet more than 90% of our students are able to achieve As and Bs after going through our program. At Kimiya, we will always be prepared to go the extra mile to help our students achieve their targets.
For more information, kindly drop by our tuition centre or contact us here.